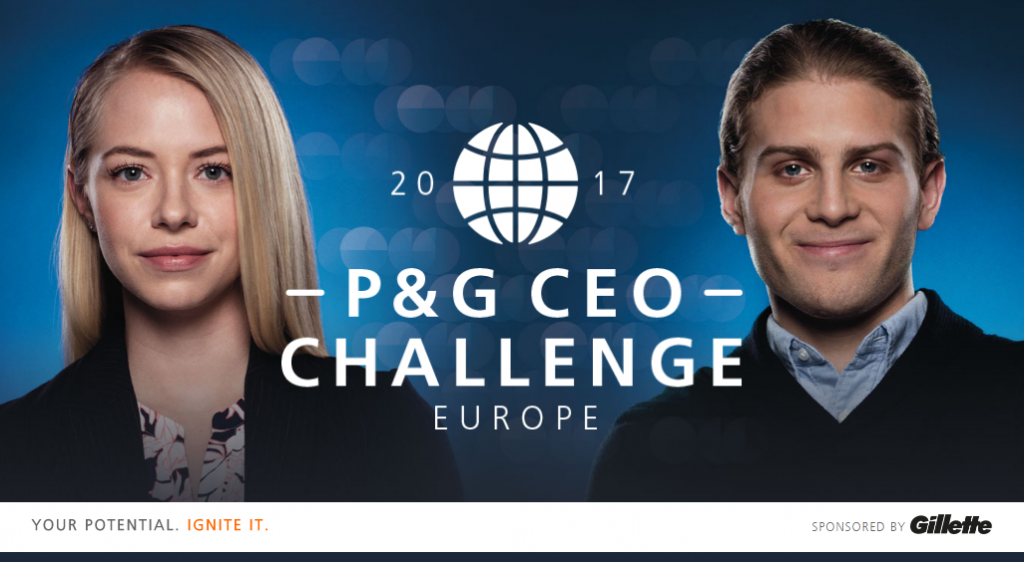 THE CEO CHALLENGE – A GREAT WAY TO GET INTO P&G!
If you think you've got what it takes to set out a high-level strategy for a billion-dollar brand, test your business knowledge on our CEO Challenge.
Sign up to our competition and play the part of a P&G manager, undertaking in-depth business case studies and producing winning solutions to advance your career.
Navigate your way through and, as well as getting valuable exposure to senior P&G people, you could see yourself jetting to Geneva and Boston. What's more, impress our judges and you could even earn a place at P&G for real!
Timing:
2nd Feb – March 17th, 2017
Case Study Set-Up*:
2 Online Stages
1 F2F Cluster Final
1 Europe Final in Geneva
Application:
Students in 2nd year and above with good English knowledge
Prizes:
Meeting with P&G Gillette Executives
Traveling to Geneva, Switzerland
1 Visit to Gillette's Headquarter in Boston, USA
Evaluation:
The evaluation of your competition work will be done by the representatives of the major functions – managers of the P&G Company, who based on their experience, will comprehensively analyse the proposed case solutions provided.
For the first two stages and the cluster finals, country leaders of the respective country will be the jury. For the Europe Finals, Gillette Lead Team will be the jury.
Financial aspects:
Participation in the competition is free for both the Cluster Finals and Europe Final. Financial part as visa support, flight tickets, meals, transportation and accommodation would be covered from P&G side.
Application and further information >> here !
---