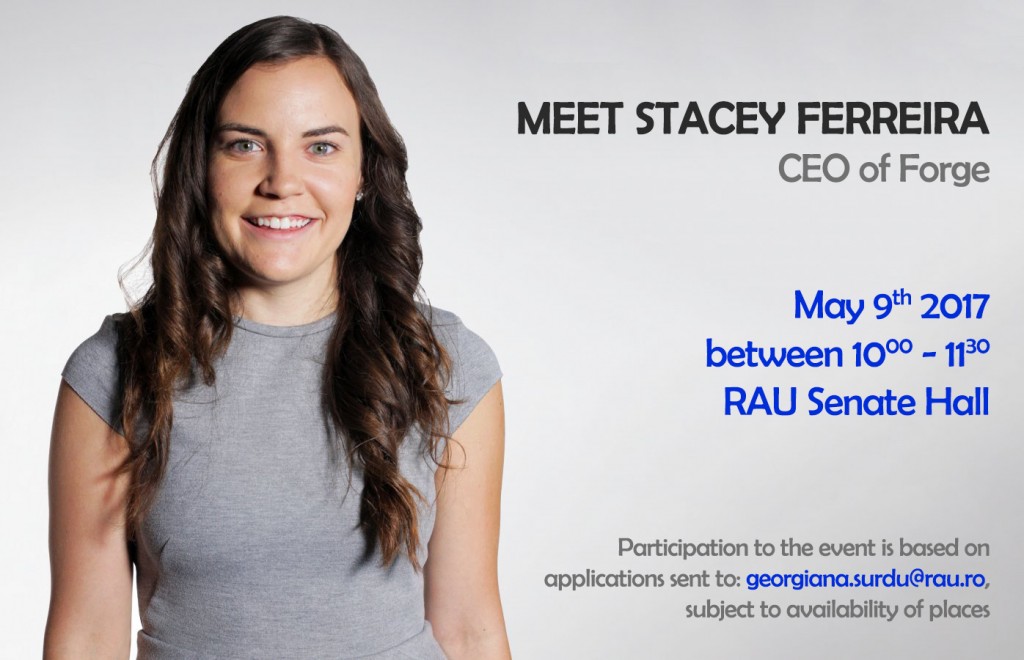 Romanian-American University in partnership with Junior Achievement Romania, invites young entrepreneurs and students to meet Stacey Ferreira.
Stacey Ferreira is the CEO of Forge, and the co-author of the bestseller "2 Billion Under 20: How Millennials are Breaking Down Age Barriers and Changing the World".
She received the Thiel Fellowship in 2015 and has been featured on and contributed to several news outlets, including the cover of Seventeen Magazine, The Huffington Post, Women 2.0, Business Insider, TechCrunch, and Forbes.
Stacey Ferreira was named as one of the "50 Startup Founders You Need To Follow on Twitter" by Forbes, and was named by Business Insider as one of few "Successful College Dropouts".
If we caught your attention, join us on May 9th 2017, between 10:00 – 11:30, at the RAU Senate Hall.
Participation to the event is based on applications sent to: georgiana.surdu@rau.ro, subject to availability of places.
S-ar putea să vă mai intereseze: